Lake Texoma
The best lake in the south since 1944
Find out about all the Lake Texoma fishing guides right here.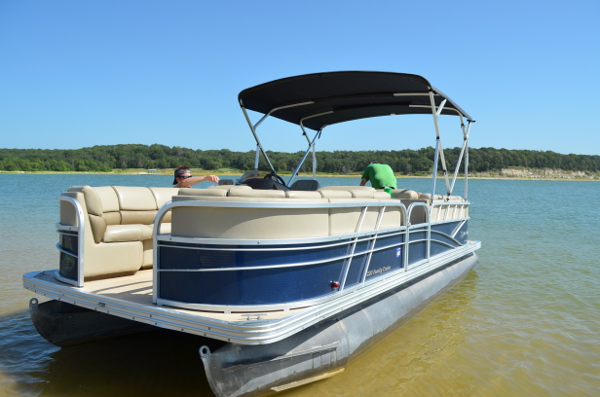 If you are looking to rent a boat on Lake Texoma, we have all the information you need.
Find information about renting a fun cabin on the lake.
Hiking and Biking Trails
There are miles of fun and exciting hiking and biking trails around Lake Texoma. You will get to encounter wildlife in the most magnificent of settings. This is a great way to get out and experience Lake Texoma and the outdoors. It is also great exercise and fun for physical activity.
Here are a few of the nature trails around the lake:
Cross Timbers Hiking Trail
Juniper Point Campgrounds
32843 Highway 377
Gordonville, TX 76245
50 Park Road 20
Denison, TX 75020
Hagerman National Wildlife Refuge
6465 Refuge Road
Sherman, TX 75092
Tishomingo National Wildlife Refuge
12000 South Refuge Road
Tishomingo, OK 73460
Camping on Lake Texoma
Lake Texoma is home to over 20 campgrounds. There are private campgrounds, two state parks, and many Army Corps of Engineers campgrounds to choose from. If you are looking to RV camp or tent camp there are plenty of options to choose from. You can find our full list of campgrounds here.
Our favorite place to camp on the lake is Eisenhower State Park. This beautiful campground has over 150 campsites to choose from and plenty of room to roam and explore. There are three separate nature trails to go hiking on. You will find a swim beach, cabins, marina, park store, and so much more in this beautiful park.
Other great places to camp include Juniper Point, Johnson Creek, and Preston Bend.
Lake Texoma Fishing
Time to get to the important information on this page: Fishing!
Lake Texoma is home to world class striped bass fishing. The fishing for stripers is an entire industry around the lake. Texoma also has over 50 large mouth bass tournaments a year on the lake as well. Smallmouth bass fishing is excellent as well on the lake. If you are looking for great fishing, you have come to the right place.
You can purchase a Lake Texoma fishing license for a low price that is good for the full year and works for the entire lake. If you have a state fishing license from Texas or Oklahoma, you will have to fish only on your designated side of the lake.
Below are a few of the fishing guides that we know of. You can find a complete list of fishing guides here.
Advantage Guide Service
Out of Alberta Creek
9040 Clear Lake Dr.
Kingston, OK 73439
580-564-3444
Adventure Texoma
56 Applecross Lane
Pottsboro, TX 75076
903-744-6169
Striper Express Fishing Guides
512 Mill Creek Resort Rd
Boathouse #3
Pottsboro, TX 75076
903-786-4477
MORE LAKE TEXOMA INFORMATION
Lake Texoma is one of the largest reservoirs in the United States. It is located on the Texas-Oklahoma border about 60 miles north of the Dallas-Fort Worth Metroplex. Lake Texoma is surrounded by two huge state parks as well as dozens of other parks, marinas, and outdoor retreats. This a phenomenal lake for fishing, camping, hiking, and recreational boating. This website will take you through the details of the parks, camping, cabins, and many other outdoor activities that can be found around the lake.
Lake Texoma is known as the "Striper Capital of the World," one of the few reservoirs in the nation where striped bass reproduce naturally. There are plenty of other fish to catch including largemouth and smallmouth bass, white bass, hybrid striped bass, white crappie, black crappie, channel catfish and blue catfish.
For more information on Lake Texoma you can visit the Texas Parks and Wildlife website.
Read our Top 19 Things To Do on Lake Texoma!
From the Lake Texoma marker:
Completed in 1944, Texoma today is the second largest lake in Texas and the eleventh largest reservoir in capacity in the United States. It's main purposes are flood control, power generation, and recreation. Lake Texoma was promoted largely through the efforts of Sam Rayburn (1882-1961), noted Speaker of the House who represented district 4 in Congress for 49 years.
In normal operation, the lake shoreline covers 550 miles with the Red River Arm (45 miles) in Texas and the Washita Arm (30 miles) in Oklahoma. The waters covering 93,080 acres are impounded by the Denison dam. When Texoma was created it caused the relocation of railroads, highways, utilities, and cemeteries. The site of Preston, historically the Red River Crossing for the Butterfield Stage, was submerged as were the sites of Hagerman and part of Cedar Mills, Texas.
In 1966, numerous recreation areas on Texoma drew 1.5 million tourists who could also visit Eisenhower State Park at the southeast end of the lake. The park was named in honor of Dwight D. Eisenhower, the thirty-fourth President of the United States. Texoma is more than one of two-hundred inland lakes and reservoirs in Texas which contribute greatly to the economic and industrial growth of the state.